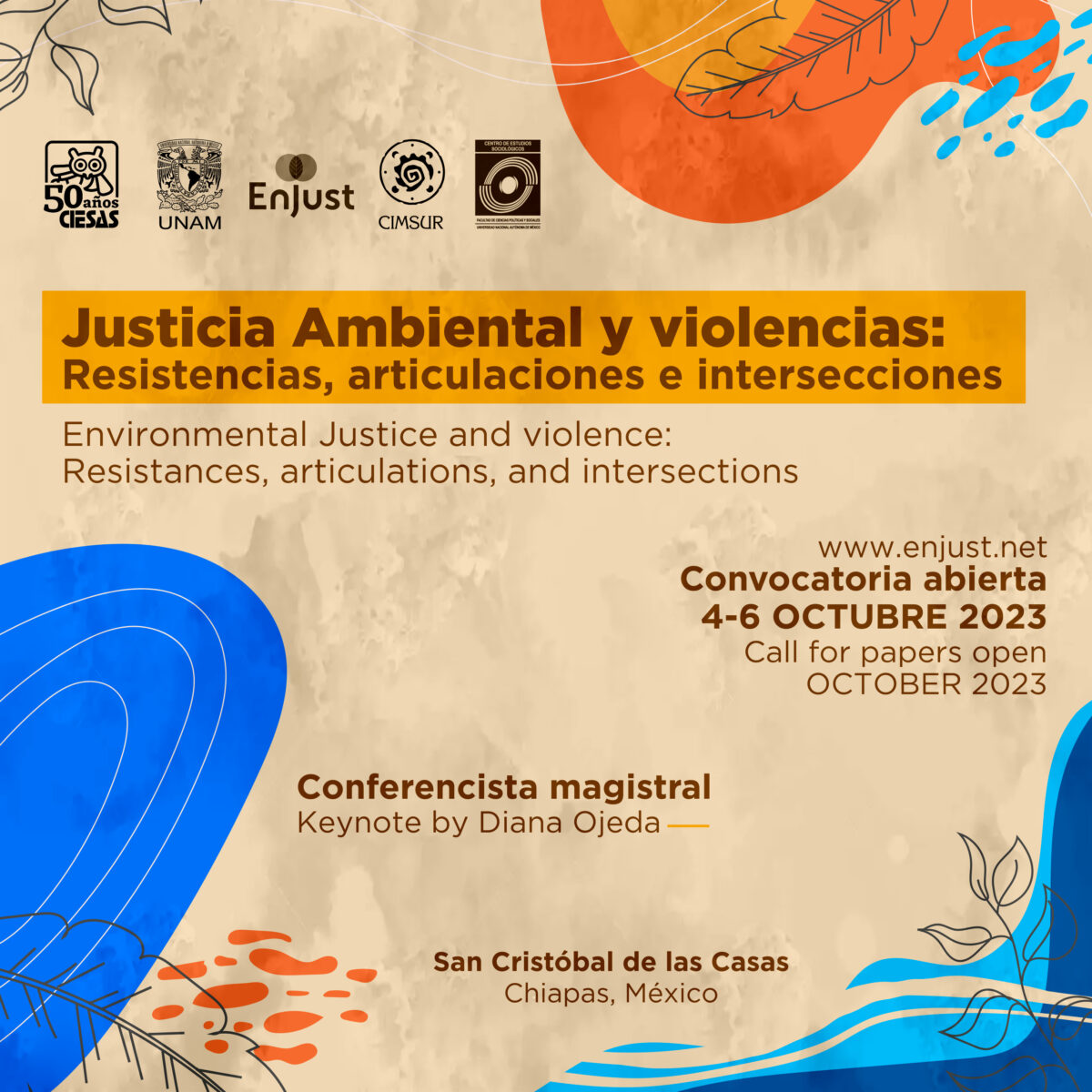 Dear EnJusties,
we'd like to announce the extension of the proposal submission's deadline for the 4th meeting of the EnJust Network till March 12.
The meeting will take place in October 4-6, 2023, in San Cristobal de las Casas (Chiapas), Mexico.
The thematic focus will be:
Environmental Justice and violence: Resistances, articulations, and intersections
We warmly invite you to propose contributions on topics related, although not exclusively, to the various sources and forms of violence in the field of environmental justice.
Such as the following:
Violence as legality/illegality (corruption, human right to a healthy environment)
Symbolic violence
Structural violence
Extreme violence (extermination, forced disappearance, necropolitics)
Patriarchal/machist/intersectional forms of violence
Slow violence, e.g. climate change impacts, environmental degradation
Violence and resistance in urban environments
Counter-violence in environmental movements
Global North-South violence
Resistances, agencies, networks, strategies, responses: how to overcome violence (art, methodologies)
Beyond violence: hope building strategies
Role of critical, situated, involved academia
Abstracts should be between 250 and 300 words in Spanish or English, plus title, author(s) and affiliation. Please send your abstract by e-mail to enjustmx[at]gmail.com until March 12, 2023.
---
Queridos EnJusties,
anunciamos la extensión de la fecha límite para presentar propuestas para el 4o encuentro de la Red EnJust hasta el 12 de marzo.
El encuentro tendrá lugar del 4 al 6 de octubre de 2023, en San Cristóbal de las Casas (Chiapas), México.
El tema central del evento será sobre:
Justicia Ambiental y violencias: Resistencias, articulaciones e intersecciones
Les invitamos a proponer contribuciones académicas en temas relacionados, aunque no exclusivamente, a las diversas fuentes y formas de violencias en el ámbito de la justicia ambiental. Queremos subrayar que partimos de una definición amplia de las violencias en el ámbito de la justicia ambiental, incluyendo sus múltiples formas, expresiones y escalas; tales como:
Violencia como legalidad/ilegalidad (corrupción, derecho humano a un ambiente sano)
Violencia simbólica
Violencia estructural
Violencia extrema (exterminio, desaparición, necropolítica)
Violencias patriarcales/machistas/interseccionales
Violencia lenta, p.ej. impactos del cambio climático y la degradación ambiental
Violencias y resistencias en entornos urbanos
Contraviolencias en los movimientos ambientales
Violencias Norte-Sur Global
Resistencias, agencias, redes, estrategias, respuestas: cómo superar la violencia (arte, metodologías)
Más allá de la violencia: estrategias para construir esperanza
Rol de la academia crítica, situada, involucrada.
Fecha límite para someter contribuciones extendida hasta el: 12 de marzo de 2023.
Los resúmenes deben tener entre 250 y 300 palabras en español o inglés, además del título, autorx o autores y sus afiliaciones. Favor de enviar el resumen por correo electrónico a enjustmx[at]gmail.com hasta el 12 de marzo de 2023. 
En el anexo encontrarán el CfP en español e inglés con todos los detalles. Siéntanse en la libertad de compartirlo con colegas interesadxs y redes de trabajo.
Esperando sus contribuciones, les enviamos muchos saludos,
El equipo organizador del Encuentro EnJust 2023
Libertad, Celia e Ignacio
Contacto: enjustmx[at]gmail.com